Dragon Dens October 20
Posted: | Updated:
Summary: Mark your calendars so students don't miss Dragon Dens from 1:10 - 2:10 p.m.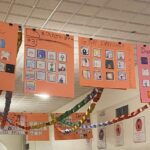 Dragon Dens School-Wide Event
Dragon Den Calendar Dates
Dragon Dens are from 1:10 – 2:10 p.m. Our preschoolers will also participate in Dragon Dens by reading the book and completing the activity within their respective classrooms. Below are the dates for Dragon Dens this school year. Students may be disappointed if they miss Dragon Dens, so pencil in these dates and schedule any necessary appointments around them.
October 20
November 17
December 8
January 19
February 16
March 15
April 19
May 17
June TBD
---
Dragon Dens History
Dragon Dens are a school-wide event. Students in grades K-5 are placed into multi-grade "dens" with a "den leaders." Den leaders are school staff, like school leaders, teachers, librarian, counselor, and support staff.
Each Dragon Den reads the same picture book aloud and completes a correlating activity based on the theme of the book. We also have snacks! Themes may include topics like inclusion, empathy, or kindness. Dragon Dens allow our students to make peer connections across campus, get to know another familiar adult on campus, and discover a sense of community within our school.